Foundation Repair In Charlotte, Durham, and Columbia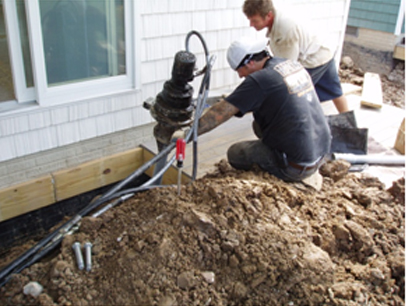 Tar Heel Foundations Solutions offers a variety of foundation repair solutions for homes and buildings in Charlotte, NC. Our company is a full-service foundation repair team that utilizes quality products and effective solutions for structural issues. We have been providing reliable foundation repair service to Charlotte and the surrounding area for many years.
Whether you have a foundation repair problem or need new construction pilings, contact us for your foundation repair options.
At Tar Heel Foundation Solutions, we can assess your home for foundation damages and provide the best foundation repair. We take pride in all of the ECP products and systems that we offer. Give us a call or contact us today. We know what is important to you and take pride in providing the highest quality service available.
Our foundation contractors have the experience and expertise in all types of residential and commercial construction in the Charlotte area.
Types of Foundation Repair Services We Offer
Construction Foundation Piers
Construction piers are used to support and strengthen the foundation.
Popular piers we install:
Home Foundation Repair
Foundation failure affects homes that are old or new, but older homes tend to show obvious signs of foundation settlement. Every homeowner should know the causes of foundation failure before it happens:
 Trees and shrubs roots that are too close to the foundation can cause soil dehydration beneath the foundation.
 Poor soil and debris lead to soil expansion and home settlement.
 Rainwater is directed away from the foundation.
 Before the structure is built, stabilize the soil
What are our foundation repair solutions?
If your home is experiencing foundation failure related to soil issues, then contact our team of professionals today. We will assess the situation and also determine the best solution for your foundation. Our foundation repair solutions specialize in quality helical underpinning, helical tiebacks, earth anchors, and also pressure grouting.
Commercial Piling
At Tar Heel Foundation Solutions, we also offer commercial piling for state and federal government buildings throughout North Carolina and South Carolina. We will support, stabilize and also strengthen your faulty foundation. Our skilled contractors use tiebacks, helical soil nails, underpinning and also soil nails for commercial piling solutions. We can stabilize foundation slopes and also retaining walls by using repair methods for all types of soil.
Contact the foundation repair experts at Tar Heel Foundation Solutions today to learn more about all the solutions we can provide.