Pressure Grouting in North Carolina
One of the things that we know about foundation repair is that it is seldom a one-size-fits-all solution. There are many different causes for foundation issues and each one has its own solution. The professionals at Tar Heel Foundation Solutions will inspect your property and determine the best way to not only repair the damage but to prevent it from happening again.
Pressure grouting in North Carolina involves injecting grout into pre-drilled holes to strengthen, eliminate cracks, correct faults, and/or reduce water flow. Foundation problems including wall cracks or floor cracks, bowed walls, and water leakage can all be remedied using this method.
Pressure grouting is an essential construction process for the specialists at Tar Heel Foundation Solutions to do wall crack repair and fix faulty foundations in North Carolina. We offer comprehensive wall crack repair solutions.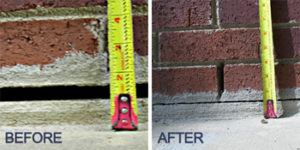 Pressure Grouting Wall Crack Repair – Charlotte NC