Foundation Repair in Shelby, North Carolina
Tar Heel Foundation Solutions is proud to serve Shelby, North Carolina. Our team of experts has the knowledge and tools to get the job done right the first time, giving you the peace of mind of a job well done. We have a reputation for good work that we have earned by doing our best job after job. Give us a call and you'll see why Tar Heel Foundation Solutions is the best foundation repair company in the area.

Foundation Repair for Shelby, North Carolina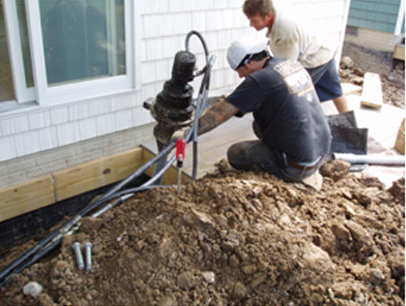 Whether you have lived in Shelby, North Carolina a long time and need repairs on your foundation, or are building a home and need that strong foundation to start your home with we have got you covered here at Tar Heel Foundation Solutions. We offer new construction solutions including new construction piers which will start you off on the right foot with your brand new foundation.
Small problems can be signs of big issues. Don't ignore any signs of foundation damage, the longer you let them go, the more time and money it will take to repair the problem. Also, you could be putting the stability of your home and the safety of your family at risk.
If you notice wall cracks or see that your chimney is leaning, or foundation cracks, we have the fix for you. We offer products from ECP (Earth Contact Products) including helical tiebacks and piers, slab piers and much more. We offer pressure grouting solutions as well. For all your foundation crack issues, we have the solutions.
So if you are a longtime Shelby resident or considering the area as the location for your new home, keep us in mind at Tar Heel Foundation Solutions. We offer free estimates so you can decide what the best solution is for your home, with the help of our foundation experts. Contact us today!
Our Solutions
Commercial Construction Pilings
Federal and State Work
Foundation Repair
Helical Boardwalk Foundations
Underpinning
DOT Tiebacks and Soil Nails
Retaining Wall Repair