Foundation Repair in Concord, North Carolina
If you need foundation repair in Concord, North Carolina, contact Tar Heel Foundation Solutions. Our experienced staff will get you the products and services needed to repair your home and make it safe for years to come.

Foundation Solutions in Concord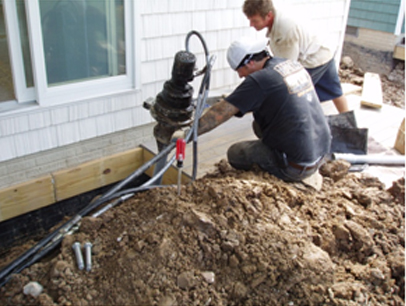 How often do you experience water in your basement? Once a year? Once a month? Every time it rains? Getting moisture and standing water in your basement is a key sign that your home needs foundation repair. When your downspouts let water out too close to your home's foundation, the water sinks into the soil and presses in on foundation walls, creating problems such as foundation cracks and bowed or leaning walls. These problems are both dangerous and unsightly.
Water in your basement can also create the perfect environment for hazardous mold growth.
Tar Heel Foundation Solutions offers multiple foundation repair services to keep your home stable and dry. Our helical underpinning and slab pier installation services will correct problems such as sticking windows and leave your home with an even foundation. We also offer wall crack injections. Instead of waiting for the problem to become even more severe, contact Tar Heel Foundation Solutions.
We are available year-round for all of your foundation repair needs in Concord.
If you require any foundation repair in Concord, NC, contact Tar Heel Foundation Solutions for the best service available. No problem is too big or too small. Our qualified staff will assess the damage and find the best foundation repair solution for your Concord, North Carolina home.
Our Solutions
Commercial Construction Pilings
Federal and State Work
Foundation Repair
Helical Boardwalk Foundations
Underpinning
DOT Tiebacks and Soil Nails
Retaining Wall Repair

Contact us today for all of your Concord foundation repair needs.