Foundation Repair Solutions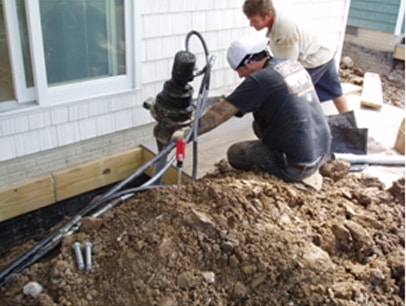 Your home needs a stable base to sit on. When settlement or other issues cause its foundation to begin to fail, it is time to contact a foundation repair specialist. Here at Tarheel Foundation Solutions we offer an array of different foundation repair solutions, ensuring that we use the right repair for each job.
While you might not frequently inspect the condition of your home's foundation, the signs of trouble will be noticeable elsewhere. An unstable base can cause a host of other issues for a home. Some of them include:
Sticking doors or windows
Cracks in concrete floors
Steps pulling away from the house
When you see a door that doesn't close, cracks in your concrete floor or drywall or you have stair steps in your bricks that are not supposed to be there, then you are well on your way to needing foundation repair. Additionally, if the basement or crawl space is leaking and wet, there may be foundation repair issues that need to be resolved. Give Tar Heel Foundation Solutions a call today and we will come out and survey the problems and give you a free estimate and discuss our proposed solution.
What are the Foundation Repair Solutions Available?
We use quality Earth Contact Products (ECP) products and will give you peace of mind to know that your home is sitting on a safe and secure foundation. Our foundation repair solutions include: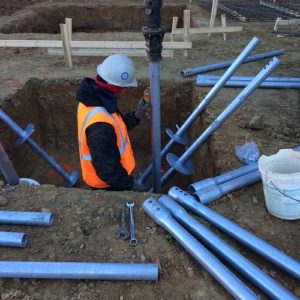 Helical piers are steel rods that have helical plates attached to them to give them the appearance of screws. Some even refer to them as screw piers.
The piers are "screwed" into the ground through unstable soil until the reach a level at which the helical piers can support the weight of the building. Technicians then attach the piers to the home with brackets.
Push Piers are steel piers that sunk into the ground until they hit either bedrock or a stable that it stable enough to support the house. The installers then attach the push piers to the house with brackets after load testing. They then transfer the load of the house onto them.
If done correctly, push piers and helical piers should provide permanent solutions to your foundation issues.
Variations on these two products are used in several of the other foundation repair solutions we offer.
We specialize in foundation repairs for home and business. As the top foundation piling contractor in the area, you can count on us for top-quality foundation repair work. Our cost-effective solutions, professional installations, as well as unparalleled pile testing ability sets us apart from our competition.
Why You Should Choose Tar Heel Foundation Solutions
Tar Heel Foundation Solutions is a full-service specialty foundation pier contractor. We dedicate ourselves to quality, professionalism, flexibility, and affordability. We do both residential and commercial foundation repair projects.
Our support team consists of certified field installers, structural and geotechnical engineers, along with project managers to provide the best solution to fit your needs.
Contact Tar Heel Foundation Solutions today for all of your foundation repairs needs in Charlotte and surrounding areas. We are your foundation repair experts!
---