Foundation Repair in Gastonia, North Carolina
In a city like Gastonia that is steadily growing, there's going to be more and more houses. With all of these new homes popping up, there's bound to be foundation problems with some of them. Whether it is a sloping foundation, bowing walls, cracks, leaning walls, or a leaning chimney, there's going to be foundation failure, it's just a matter of odds. No matter what your issue is, Tar Heel Foundation Solutions has an answer to your problem. We'll help you fix any damage caused by the failure, and we'll also help you identify what caused the foundation failure and help fix that as well.

If you are wondering how to identify foundation failure, there are a few signs that are easily seen or identifiable. Look for bowing or leaning walls, sloping floors, cracks in your floor, walls, or foundation, doors, and windows that stick, cabinets that stick, water stains, leaning chimneys, or even stairs or stoops that are pulling away from your foundation. Tar Heel Foundation Solutions uses repair products from Earth Contact Products, the recognized leader in the industry.
Professional Foundation Contractor in Gastonia, North Carolina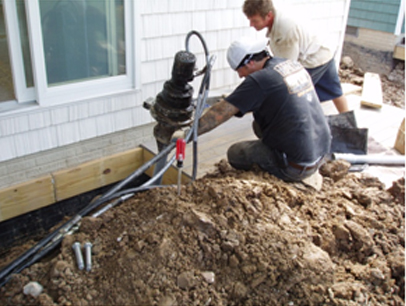 If you notice these signs, there's no need to panic. While they usually do mean some type of foundation failure, we can promise to help you with any of these problems. Tar Heel Foundation Solutions has an experienced team of foundation repair professionals. We're just a call away, so, give us a quick call anytime you notice these signs.
We're experts on all types of foundation repair, so we'll make sure to give you the best service we can give, but make sure not to wait for foundation repair. If you wait, these problems may get worse and can become a bigger problem than they need to be.
No matter what your problem is we will help by giving great service, providing foundation repair products and services, and help by assuring your home is safe against future foundation failure. You can rest easy knowing you, your family, and your home are safe.
Contact us today to learn more or to schedule an inspection of your Gastonia property.
Our Solutions
Commercial Construction Pilings
Federal and State Work
Foundation Repair
Helical Boardwalk Foundations
Underpinning
DOT Tiebacks and Soil Nails
Retaining Wall Repair