Foundation Repair in Huntersville, North Carolina
While Huntersville is a unique town, the homes within its borders are going to have foundation problems just like any other home. Foundation failure is unavoidable no matter where you are; bowing walls, sloping foundation, leaning walls, cracking, and leaning chimneys are all going to happen where ever you go.

So to be prepared for anything as a homeowner, you should make sure to watch out for signs of foundation failure.
If you are not sure what to watch out for here are some common signs of foundation failure and settling:
Basement walls that seem to bulge or lean
Doors or windows that are hard to open
Cracks in floors or walls
Leaning chimneys
Water stains on walls and floors
Stairstep cracks in brick walls
Breaking windows
Professional Foundation Repair Service in Huntersville, North Carolina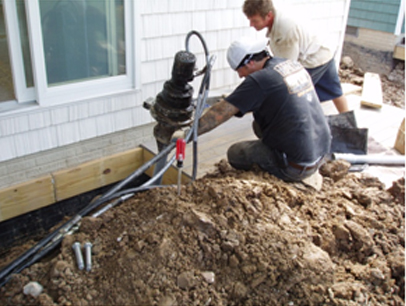 Do not panic if you notice some of these signs, while most of these signs are indications of foundation failure, you don't need to worry. With Tar Heel Foundation Solutions around, you don't need to stress. We are your number one foundation repair team. We will help with any problem you might have. We are experts in foundation failure and repair, and our team of foundation repair professionals will help fix your existing damage, and prevent future foundation problems.
Tar Heel Foundation Solutions has a wide variety of products to help you with any foundation failure problems you may be experiencing. So no matter what problem you might have, we can promise to help in any way we can to provide the best service we have to offer. We will help you protect you, your family, and your home against any foundation problems.
Contact the foundation solution specialists at Tar Heel Foundation Solutions today for a free inspection of your Huntersville property.
Our Solutions
Commercial Construction Pilings
Federal and State Work
Foundation Repair
Helical Boardwalk Foundations
Underpinning
DOT Tiebacks and Soil Nails
Retaining Wall Repair