Foundation Supports
When Do You Know You Need Foundation Supports?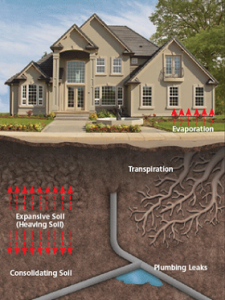 North Carolina and South Carolina are a part of the subtropical climate zone which means both states experience hot, dry weather conditions and cold winters. Along with these fluctuating climate temperatures, heavy rainfalls are prominent during the spring. All of these conditions cause an inconsistent moisture imbalance in the soil. As the soil expands, it puts pressure on the foundation walls of homes. This causes settlement issues such as wall cracks, foundation cracks, slab cracks, and misaligned doors/windows. Look around your home for these warning signs. If you suspect your home has settlement issues, call Tar Heel Foundation Solutions. Our team of experts provides various foundation solutions, like steel push piers, to keep your home strong, safe, and stable. Our products are made by Earth Contact Products (ECP), the leading manufacturer in today's underpinning and waterproofing industry.
If you have foundation settlement, don't wait to make the necessary foundation repairs. It will only make the problems worse. Look for warning signs inside and outside of your home as well as the basement. The following warning signs include:
Bowing and Leaning walls
Foundation cracks
Gaps around windows and doors
Moisture in your basement or crawlspace
Cracks in your brickwork
If you notice any of these signs, we offer a variety of foundation support methods to level, strengthen, and stabilize your foundation.
Types of Foundation Supports Used in North and South Carolina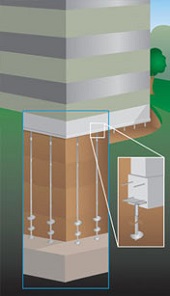 Foundation supports are used to fix common foundation problems caused by settlement. Here are the following types of foundation supports we use:
Helical Slab Brackets
Due to changes in weather and inconsistent moisture levels, over time your foundation's slab may start to crack. We use helical slab brackets to mechanically or hydraulically lift and stabilize the slab. They can be used on poured grade or floating slab.
Wall Crack Injections
Settlement can produce cracks inside and outside of your home, as well as the garage. In your home, check your basement for mold, mildew, and rusty appliances. These are indicators that you have moisture in your basement. Moisture enters the home through wall cracks. Cracks can also occur in your home's brickwork. Look for tilting or leaning chimneys and gaps around your windows. Check your garage floors and walls for cracks and signs of mold. We can repair wall cracks by using wall crack injections to strengthen your foundation.
Crawlspaces are often ignored because they are out of sight. If you have cracks throughout your home's structure, they may be in your crawlspace too. Cracks cause excess moisture and humidity in crawlspaces. Look for signs of water damage such as mold/mildew, floor cracks, rusty appliances, buckling floors, and wall cracks. Your home may need crack injections. Crack injections will reduce moisture and humidity in your crawlspace as well as insulate your home.
Earth Anchors
We use earth anchors to repair bowing and leaning walls. Poor building sites, poor basement waterproofing, and poor drainage can cause lateral pressure onto your basement walls. This pressure leads to bowing or leaning walls. Bowing walls are a safety concern for your home and family. Earth anchors are installed into the ground and placed around your foundation. They are designed to keep pressure off of the wall and straighten bowing and leaning walls.
Steel Push Piers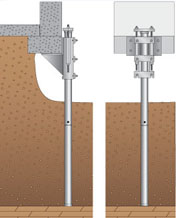 Gaps around windows and doors are a common foundation issue. We use push piers to lift your home and remove the space between the wall and door. Our piers are tested before the installation process to meet all required standards.
If your home needs foundation supports, contact our team of professionals. Tar Heel Foundation Solutions will inspect your home for signs of foundation failure and offer the best foundation repair solutions for your home.
Who We Serve
Because homes in North and South Carolina are built on clay soil, they may experience settling, shifting, and sinking over time. Foundation issues lead to wall cracks, water leaks, foundation cracks, and so on. If you notice any of these warning signs, contact Tar Heel Foundation Solutions before it is too late. Avoiding the necessary repairs will cost you time and money in the long run. Our team of experts will put a stop to foundation failure.
We offer foundation repair methods, waterproofing, underpinning, and anchoring for the cities in North Carolina. Some cities include Charlotte, Shelby, Winston-Salem, Concord, Matthews, and other cities. Gastonia residents know who to contact when they need foundation repair service for residential or commercial projects. We'll get the job done.
Because South Carolina has clay soil and groundwater conditions, this state is susceptible to foundation settlement, flooded basements, and wet crawlspaces. That is why we offer foundation supports for the cities of South Carolina. We service Columbia, Fort Mill, Shelby, Rock Hill, Lancaster, and so on.  The citizens of Camden and York can depend on Tar Heel Foundation Solutions for all foundation issues.
We provide services for all the residents in North Carolina and South Carolina. We want our customers happy and satisfied. Read our case studies, so you can view our before and after projects. We make sure every job is complete and done right the first time. Call Tar Heel Foundation Solutions today, if you need a free estimate.