New Construction with a Solid Foundation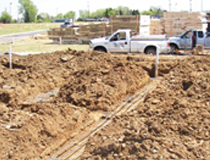 New construction piling is one of the most important aspects when building a strong, supported foundation. Helical piles installed by Tar Heel Foundation Solutions can be installed in all weather and site conditions and produces no spoils that hamper the job site. Tar Heel Foundation Solutions also can provide ASTM load testing for compression, tension, and lateral loads. Our crews will install your deep foundation helical piles to the engineer's design and provide you with the proof of load testing to back it up.
For commercial or government contracts in North Carolina, Tar Heel Foundation Solutions can provide helical soil nails, tiebacks, new construction pilings, and boardwalk foundation piles promptly and within budget. No matter the requirements or specifications we will work with you to provide the highest quality new construction helical anchor system available. If you have been using concrete piles you will quickly realize why so many Charlotte area General Contractors have made the switch to helical piles for their deep foundation needs.
Tar Heel Foundation Solutions is a full-service specialty foundation pier contractor dedicated to quality, professionalism, flexibility, and affordability. Our support team consists of certified field installers, structural, and geotechnical engineers, along with project managers to provide the best solution to fit your needs. Our cost-effective solutions, professional installations, and unparalleled pile testing ability sets us apart from our competition. Contact our project managers to visit job sites and offer expertise and guidance on all types of foundation issues.