Soil Nails in North Carolina
The structural contractors at Tar Heel Foundation Solutions know that soil nail installation is a very common technique used to stabilize slopes and retaining walls. Holes are drilled at a slight downward slope, reinforcement bars are inserted into the holes then grouted. Generally, numerous soil nails are positioned in a specific arrangement to maximize stability.
Soil nailing can be used for a variety of soil types and conditions. Sand and gravels which are dense, comparable to very dense soils also work well for soil nailing.
One great advantage of soil nailing is its cost-effectiveness over many alternatives. When conventional soil nailing construction procedures are implemented, soil nailing is much more economical than concrete gravity walls and similarly less expensive than ground anchor walls.
Soil Nail Installation in Charlotte, NC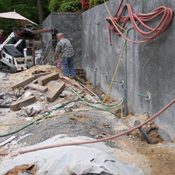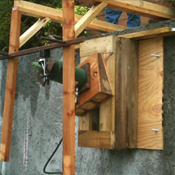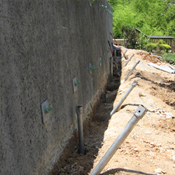 Soil Nail Installation. 3″ holes were drilled (over the pressure grouting holes) and grouted soil nails were installed with #5 rebar. The grouted soil nails/pin piles were installed to a 10′ depth and will assure the slabs against any possible future movement.