Foundation Repair in Columbia, South Carolina
Tar Heel Foundation Solutions can handle all your foundation cracks and repairs. We also offer all types of basement waterproofing solutions. We can keep your home safe and dry for years to come. We are the foundation repair specialists of Columbia, SC!

Foundation Repair Solutions For Columbia, South Carolina
When you live in the warm, humid climate typical of Columbia, you will want to constantly be on the lookout for the signs and symptoms of foundation problems. Do a quick survey of the interior and exterior of your home.
Do you notice sloping floors, wall cracks, leaks, leaning chimneys, or foundation cracks? If so, it is time to contact the specialists at Tar Heel Foundation Solutions to help you assess the problem with a free estimate. We have helical tiebacks, soil nails, and many other great solutions to fit your needs and budget, all from the very best in foundation repair products from Earth Contact Products.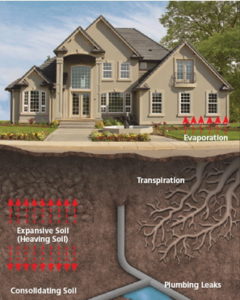 Helical piers are used to transfer the load of the structure from unstable soil to stronger, more suitable soil that is deeper into the earth. They can be used in new construction or when there is a need for foundation repair. These helical piers are installed by mechanically screwing them deep into the soil. The installation is closely monitored to ensure optimum capacity. Once they reach their capacity location, a steel bracket is attached to the pier. In a carefully maneuvered switch, the weight of the home is transferred onto the piers.
Other Services for Columbia
Tar Heel Foundation Solutions can also repair a slab that has started to shift and settle. Our helical slab brackets are the most economical repair for slab issues. These brackets are used to lift the slab and can be used mechanically or hydraulically. They provide support under concrete slabs that have cracked due to failing soils or increased loads.
We are proud to provide our services to such an amazing city like Columbia. We can be there fast and offer you solutions to fit your budget and problem. Our professionals can give you the best service the area has to offer.
Our Solutions
Commercial Construction Pilings
Federal and State Work
Foundation Repair
Helical Boardwalk Foundations
Underpinning
DOT Tiebacks and Soil Nails
Retaining Wall Repair
If you find yourself with foundation cracks or anything foundation problem, remember Tar Heel Foundation Solutions for all your foundation repair needs in Columbia. Call today!