Slab Repair Options
Slab Repair North Carolina and South Carolina
The foundation of your home is extremely important because it supports the entire structure. If a problem with the foundation arises, it will most likely lead to other problems throughout different areas of the home. Many things could go wrong with your foundation, but there are just as many lasting, affordable solutions to all of these things. Fortunately, the team at Tar Heel Foundation Solutions can take care of any foundation issues you may have.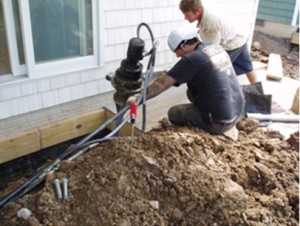 Some common symptoms that something is wrong with your foundation are: cracks in the foundation or walls, a shifting or settling foundation, bowed or cracked walls, windows or doors that stick, or water issues. These things are usually caused by shifting soil underneath the foundation or extreme fluctuations in weather patterns (drought, excessive rain, etc.). If the soil under the foundation was not compacted correctly during the building process, it could eventually wash away due to rainwater, leaving a void underneath your foundation. Drought may cause the soil to shrink, presenting the same sort of problem. This lack of support under the foundation causes it to shift and/or crack. Though issues like these may not seem serious on their own, they pose a serious threat to the safety of your home and should be repaired as soon as possible.
Tar Heel Foundation Solutions Provides the Best Slab Repair Options
Tar Heel Foundation Solutions offers practical solutions for every slab repair situation. Often, the most effective method is to install a quality helical slab bracket from ECP. These are used with helical anchors or piles work in the same way as underpinning brackets that are installed to support the footings of a foundation. Helical slab brackets and anchors work by drilling into stable soil and raising the slab back to its original position. They may be used on either a poured grade or floating slab and have a large enough load capacity to suit any home. 
Contact us at Tar Heel Foundation Solutions to make sure your home's foundation is in top condition.